 Beverley P - Volunteer Naturalist
I moved to Boulder in 2015 and have been a volunteer naturalist ever since. Prior to living in Boulder I lived on Sanibel Island where I was a volunteer naturalist for both the NWR and the Conservation Foundation. My profession was as a middle school science teacher. Diane G - Volunteer Naturalist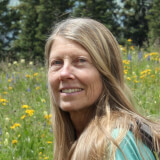 Dot F - Volunteer Naturalist
VN Class of 2009 I find nature to be endlessly fascinating and love sharing my knowledge and leading interpretive hikes where I hope to inspire others in appreciation and stewardship of our precious wildlife and wild lands. In 1975 I moved to Boulder and learned about the flora and fauna of the area and hiked the Flatirons to the Divide. During 20 years on Kauai, HI , I volunteered at a Wildlife Refuge and Botanic Garden. Back to my beloved Colorado and sharing my passion for nature again! Paul S - Volunteer Naturalist